I'm honoured to have been invited to work with the internationally acclaimed charity Arms Around The Child on an art project that has taken me to work with HIV+ orphans in Jaipur, India.
Over the next week I will be working with the children to create their own art, and I'm also making a piece myself to donate - ready for an international auction alongside other artists next spring. The money raised from this project will help transform the lives of children like those I'm with right now.
It is a humbling experience being out here. The young people we're working with are truly amazing, so happy and enthusiastic - they have welcomed us with gusto and are already creating some really wonderful paintings with materials we shipped out ahead of our journey from North Devon. Later this week we're working on three large pieces.
'Art Around The Child' is a major fundraising initiative that will culminate in a VIP reception at a major venue in the West End of London in Autumn 2017, an auction of donated artwork and an after party with live DJ performances and celebrity appearances.
You can read the full press release from the charity below this gallery of photos taken today by my friend and team member George Barrett, and my partner Charlotte Hunter, who have travelled with me on this trip of a lifetime.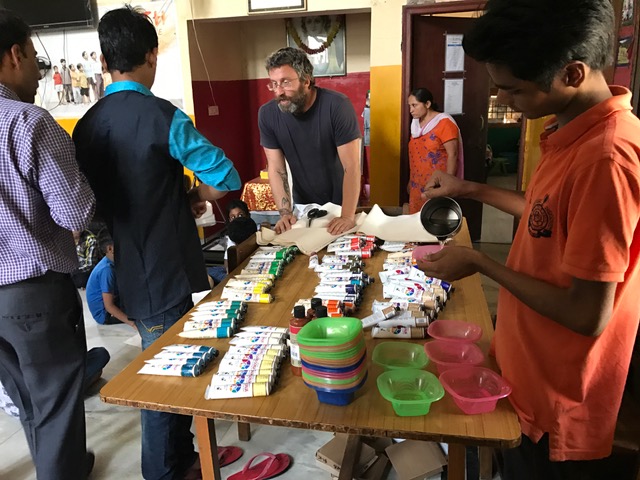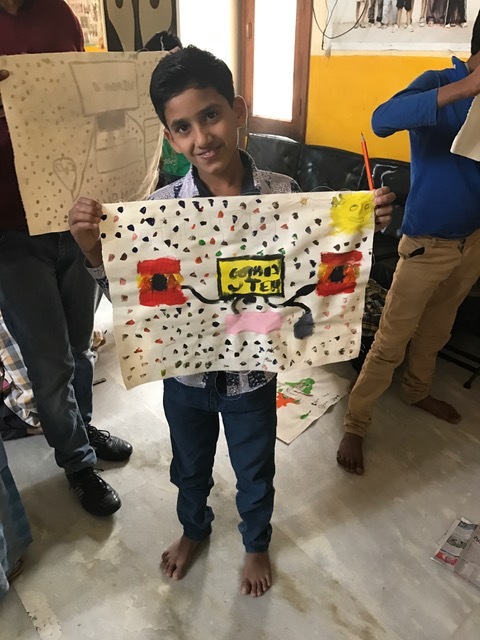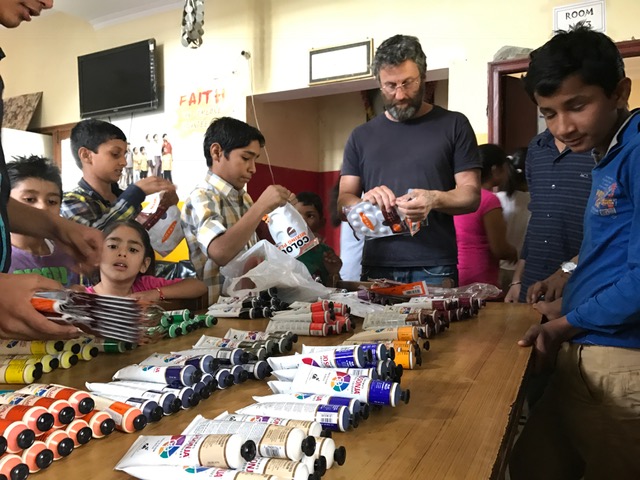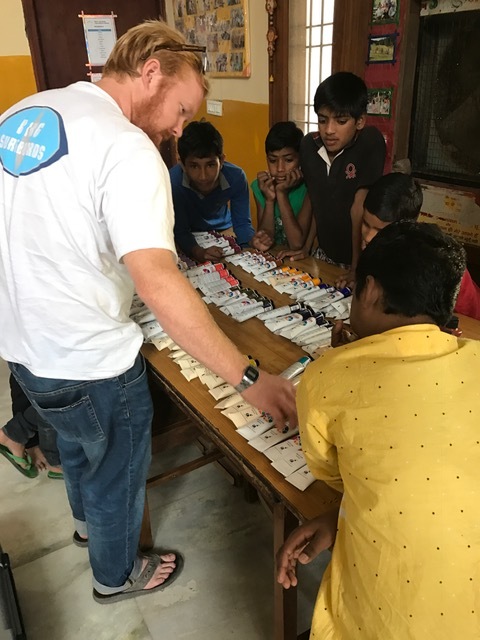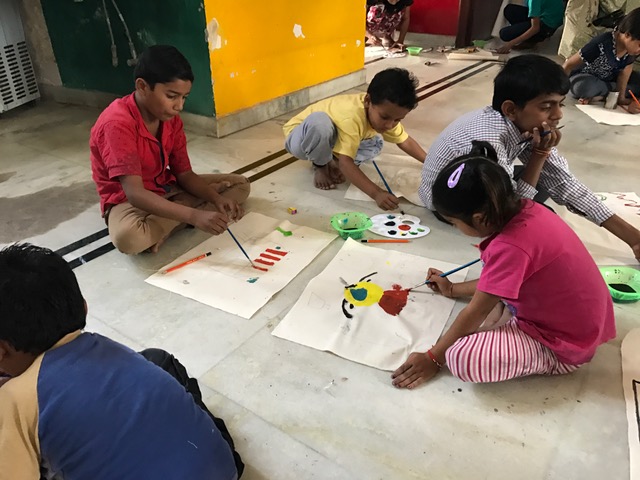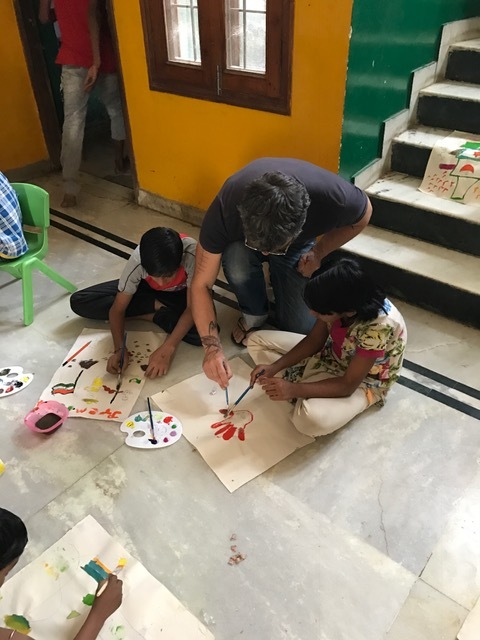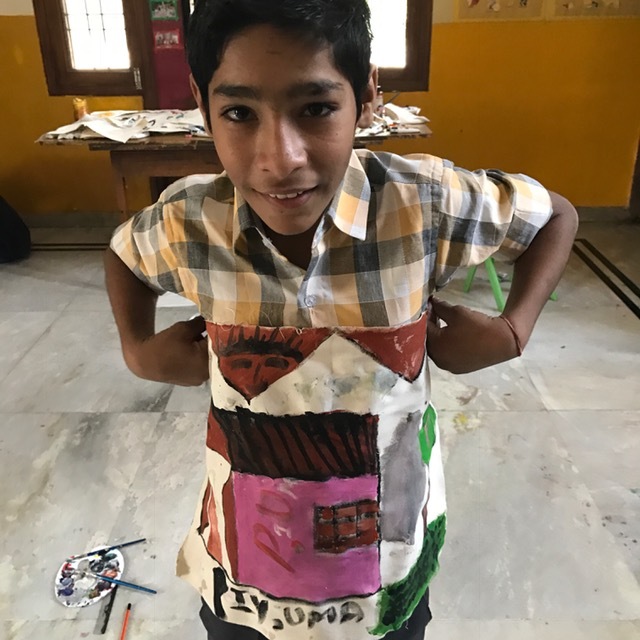 PRESS RELEASE
Arms Around The Child (AATC) is pleased to announce a unique opportunity for your art to be the centrepiece of a major international charity art auction.
AATC's mission is to work from the ground up, within communities across Africa and India - and beyond - to ensure that children who are orphaned, often affected by HIV/AIDS, abandoned, abused, trafficked or living in child-headed households, are rescued from harm's way, lovingly taken care of, and given the hope they need to secure a better future.
The statistics are shocking! 151 million children are living homeless on the streets. 1.2 million children are trafficked every year. 132 million children have been orphaned worldwide. 17.8 million children are AIDS orphans.
We are reaching out to the international Fine Art family of visual artists, and to leading private collectors and institutional collections to request donations of outstanding contemporary artworks in every medium with the overall theme of "HOME" in mind for inclusion in a Live and Silent Auction, Autumn 2017.
Lee Sharrock is curating the exhibition and auction to include artists individual responses and interpretations around The Dolls House concept. The Dolls House artworks will be exhibited along with art created specially for the auction including work by artist Paul Broomfield, who is traveling to Jaipur, India this winter to spend time with HIV+ Orphans and creating collaborative artworks with them.
The Dolls House, symbolising a home is an enchanting and popular toy valued by both adults and children, and found to exist in many cultures tracing back to the Egyptian tombs of 5000 years ago. The Dolls House encourages creativity, imaginary play, symbolic representation, social and emotional skills and they are highly collectable.
Guests will be invited to a celebrity cocktail and canapés reception and the opportunity to view all donated artworks, before the Live Auction commences. All Live and Silent Auction artworks will be exhibited publicly and online before the event; Silent Auction pieces will remain exhibited online for 7 days after the event.
The grand finale to 'ART AROUND THE CHILD' will be a glittering After Party, with live DJ performances and celebrity appearances at a major West End venue. Arms Around The Child (AATC) has a critically acclaimed, international reputation for excellence in the field of premiere event creation and delivery. The charity's recent events have included 'The Black Ball' with Alicia Keys in New York and 'The Other Ball' with AATC Ambassador Mark Ronson in London, where we hosted sensational performances from Florence and the Machine, Lily Allen, Rudimental and Angelique Kidjo, among many others. These wonderful occasions have always provide a highly inspirational platform for the auction of magnificent examples of world-class contemporary art and design, created by some of the world's leading visual artists.
'The Other Ball' in London garnered close to a billion impressions, across every imaginable media outlet in the UK and worldwide – includes The BBC, Vogue, GQ and every major UK national daily newspaper, from The Financial Times to The Sun.
Leading up to the event, AATC, and our online auction partner Charity Stars, will be running a fully integrated, international, multi-media PR campaign (incl. official schedule of contributing artists and donated artworks and interviews & editorial features with contributing artists), to drive maximum media and public awareness of the event, our artists and their art, in order to generate the highest possible auction revenues for the children we support.
HOW WE SAY 'THANK YOU' TO YOU
Virtue is its own reward and brings with it the truest and highest pleasure.
A priceless benefit of your involvement with the charity, as a contributing artist, is the simple knowledge that your art has forever changed - for the better - the lives of children you have never met, transforming their life chances.
In every corner of the world, the power and global reach of social media is evident and more Fine Art buyers and enthusiasts are interested in seeing how the artists they support are being socially responsible in giving their support to those who need it.
Using the power of your art to raise awareness amongst your buyers, supporters and followers about the issues we face as global citizens makes a massive difference.
We cordially invite you to join us.
All art donations and related PR are managed directly by Arms Around The Child, supported by its appointed agencies.
For further information to discuss art donations, please contact:
Ellie Milner - Arms Around The Child
Tel: 07801292553
Email: ellie@armsaroundthechild.org